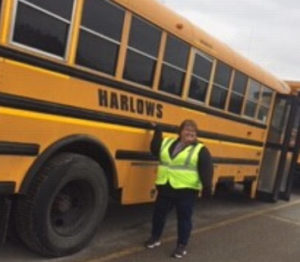 JANET KURLE
Janet Kurle has been a dedicated school bus driver for 21 years.
She started driving Bus in 1998 in Soldatna, Alaska. After she moved back to the Libby, Mt area in 2013 to be with family, she started driving for Harlow's School Bus Service. Janet grew up in the Troy/Yaak/Libby area where she met her husband Chris of 15 years. Mother of Four beautiful children: Codie 27, Karley 20, Jolee 14 and Zander 11. Proud grandma of 5-year-old Ava. Janet's love and passion for the holiday seasons spanned from her Mom who was never afraid to start a new project and shared great passion for the Holidays.
Janet loves that she can pass her passion for the holidays onto her kids as well as those in the community. Janet also works as a paraprofessional at the Libby elementary school. She gets great joy seeing and hearing the kids get excited and talk about the Harlow's decorated buses. "the kids make it all worth it".