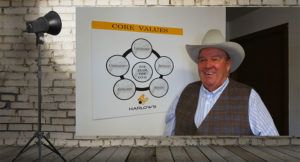 BURTON LEWTON
Burton joined Harlow's in 2012 and currently holds the position of Transportation Manager at the Dickinson, ND location.
Burton says that he feels very fortunate to work for a great company like Harlow's and with the great team of employees at their location.
He enjoys giving back to the employees and their families through the company picnics and other events. His favourite event is the annual Christmas party where Burton plays the part of Santa's helper and ensures that all employees' children get a stocking full of goodies.
When Burton isn't managing the fleet or giving out toys he enjoys hanging out with his family, camping and fishing with  his 5 kids, 16 grand-kids and 3 great grand kids.
We feel lucky to have Burton with us!